There has been some questions regarding the prices and contact info in this post, Updates have been made:
I'm editing this post to answer some of the common questions I get via email. Nothing wrong with questions and I enjoy emailing with other airgun folks but this might save some time and get us to the second round of questions faster! Here's a dozen reference items...
1. We accept only PayPal payments to:
jboyenga@md.metrocast.net
or USPS Money Orders.
2. Shipping costs $10 for little orders (100-300) and $15 for larger orders (more than 400). All shipping is via USPS Priority Mail, insured and with delivery confirmation. If you ask for it or if I decide it is required (you live in an apartment) I will add signature confirmation. We come out ahead on some shipments and behind on others but I'd have to charge a customization fee if every order had custom shipping, oh, the fee includes the diesel fuel for a trip to the post office so you won't be waiting on another trip...
3. Small orders are less than 300 slugs for the smaller calibers and more falls into the large order category.
4. If you have a .25 LW barrel with regular rifleing, you want .251 sized slugs. If you have the .25 LW with the polygonal rifleing, you want the slugs sized to .252. (I wrote this years ago and LW had consistent barrels then, you may find other results now)
5. If you have a Sumatra you want 6 rings at .253 for loading in the magazine. The 7 rings can be single loaded in the Korean guns. BTW, I do NOT recommend that you buy these slugs for magazine loading unless you are willing to be extremely careful with the firing sequence and understand how and why your gun works! If you jam your gun and/or force the lever, ever, it will have been against my advice. I'll be happy to explain via email.
6. We currently offer the Barnes by Surefire .25 heavy slugs you have read about here and also the Barnes Raptor .45 slugs. In addition there are a number of .308, .32, .452, .457 and .50 caliber slugs that are available. All of these slugs have at least a couple custom sizes that we will size them to.
7. All of our slugs are custom sized to the customers request. We can sell you slugs "as cast" if you desire but our prices and normal practice reflect sizing the slugs to fit your barrel. I can make some recommendations based on experience and customer feedback, but knowing your exact barrel dimensions is a big help in deciding what's best for your gun.
8. All slugs are cast to order and are not cast until the order is paid for. This is custom work done to make slugs for a particular customer and gun.
9. I cannot know your gun as well as you. If you order the wrong slug or it does not fit your needs, I'm sorry, there's nothing I can do. We don't offer a performance based guarantee as I can't possibly know if you can shoot or if your gun is any good. We make the slugs to high standards and as ordered. Feel free to ask on this or any other forum and evaluate the answers you get regarding quality of the slugs before you order.
10. The .25 slugs are for enhanced power modified Condors. To shoot these slugs effectively you need a gun with a little extra power at least. You also should not expect good results with short barrel guns. Even if you can launch a Kodiak at 1000 fps from your 12" barrel, don't get the heavy slugs. The heavies need room to accelerate and that means a 20" barrel minimum is recommended.
11. We offer match grade sorting for all the slugs we make. It is a very labor intensive process and thus expensive, $15 per 100 slugs. That will get you all the slugs in a batch of 100 within plus or minus .2gr for .25s and plus or minus .4gr for .45s. So, if your .25 can take advantage of slugs that never differ by more than .4gr and you are willing to pay for the service; we will cast as many slugs as it takes to fill that order with perfect slugs in that tight weight range.
12. We offer color coating on all the slugs we make as well. Standard cost is $10 per 100 and that includes custom colors from pink to 2-tone school colors. There is NO implication that colored slugs shoot better or will protect you from cancer! The coating will probably reduce lead contact but I have no scientific proof that it does or that it would matter. If you want color to organize your slugs or just to identify your kill, ask. The coating has been tested and it does not foul barrels or harm accuracy. Just don't lube the color slugs with FP-10, that's the only lube identified so far with a solvent strong enough to soften the color coating, oil is fine.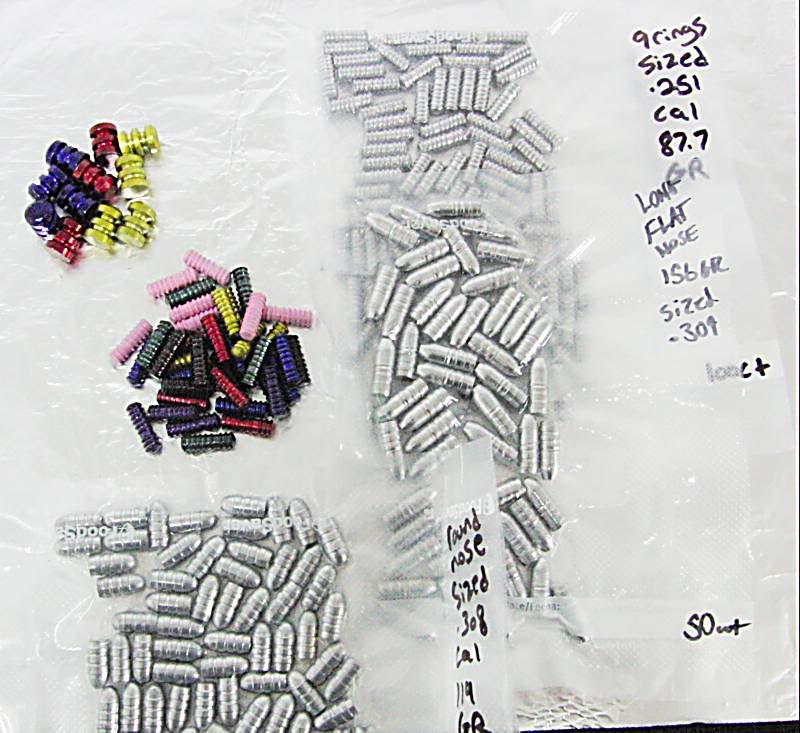 We're back! The first 2 pictures are of the slugs sized to .253 (in case you are shooting a Sumatra as well as your trusty Condor). The second 2 pictures are of the same slugs sized to .251 which is what 99% of you want for your LW barrels.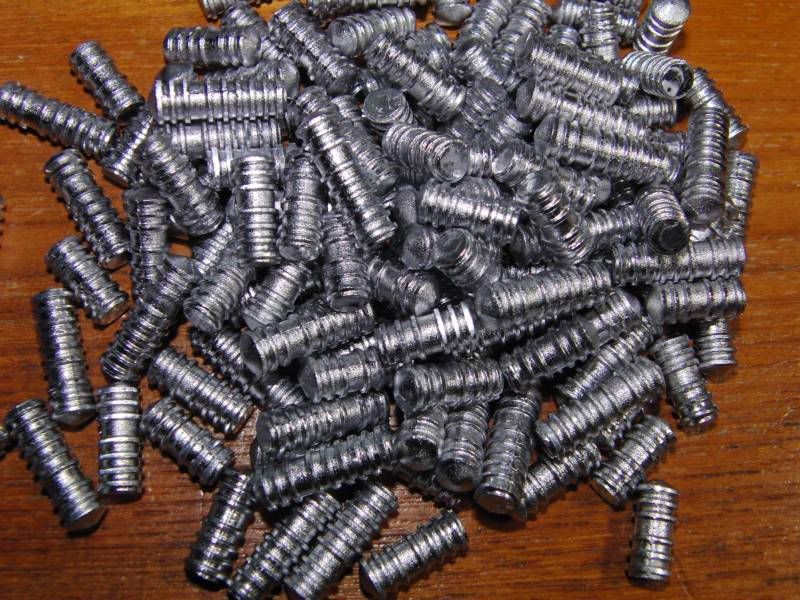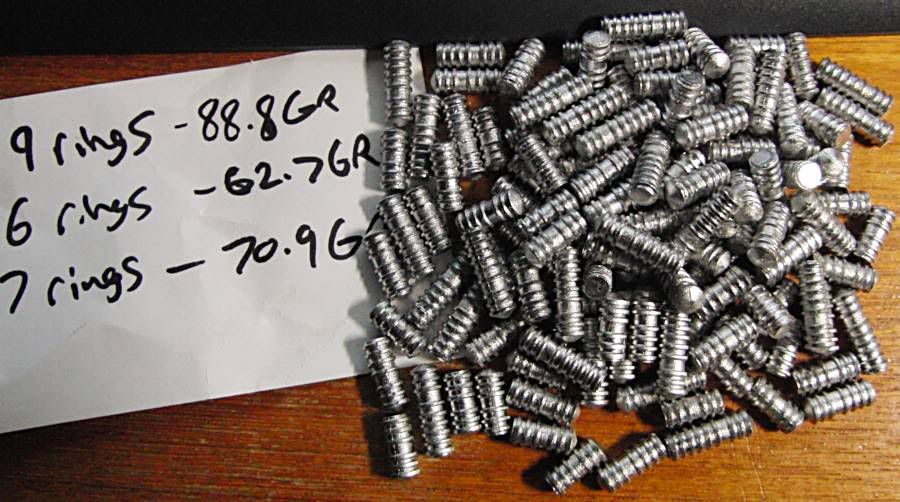 I'll keep the stuff below as history and the contact info and prices are updated. OH, we've dis-continued the 8 ring slug for lack of demand, so we'll just be selling 6, 7 and 9 rings from now on.
Barnes heavy .25 custom slugs by Surefire for sale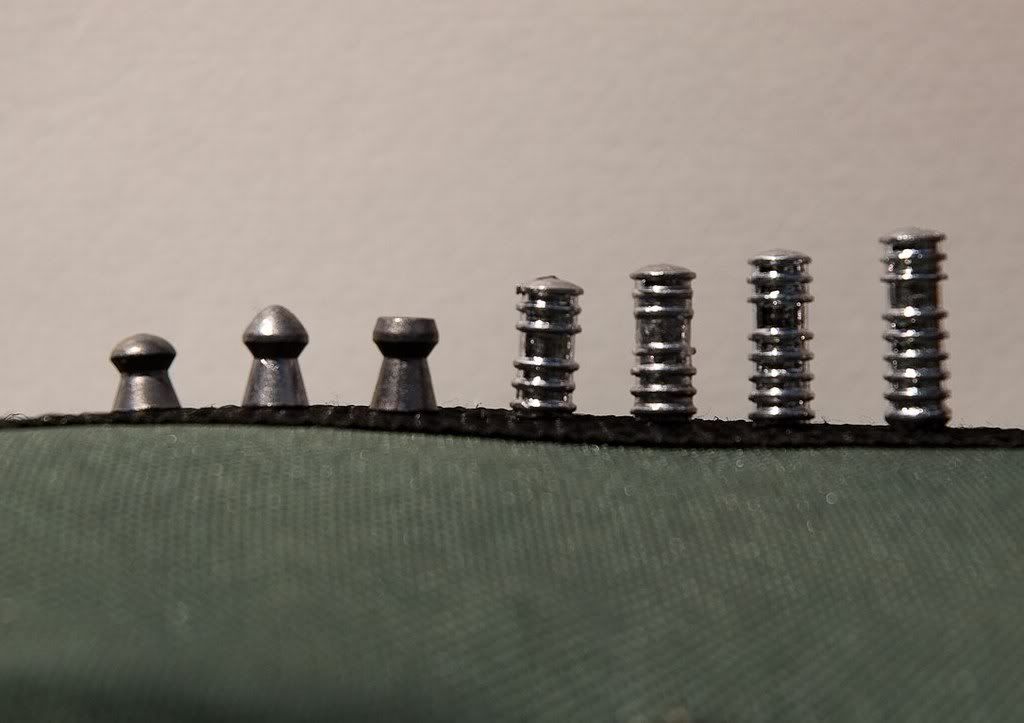 From left to right: Diana Magnum, Kodiak, Crow Magnum, 6, 7, 8, and 9 ring Barnes.
As you can see, even the 6 ring slug dwarfs the Kodiak. These slugs carry a lot of mass and will carry some serious energy downrange for the guns that can handle them.
We shot a bunch of 9 ring slugs as they were very accurate and we enjoyed the effect they were having on the blocks of 2x6 we had for targets. We also decided to chrony all these slugs to be able to provide you some real world numbers. We figured that if we kept the gun set-up the same for all the slugs and got a base number for the Kodiak, you'd be able to estimate the power and speed you'd see from your gun by comparing to these numbers. For our set-up the Kodiaks went 1144 FPS which is screaming. We all heard the obvious supersonic crack reverberating off the hills around us. There was no doubt that these pellets were going supersonic. The Diana Magnums were just silly, it sounded like we were shooting a high power rifle not an airgun. Fun, but not what most of us are after. Here are the numbers:
Diana Magnum, 20gr, 1289 FPS, 73.8 FPE
Kodiak, 30.7gr, 1144 FPS, 89.2 FPE
Crow Magnum, 26.2gr, 1203 FPS, 84.2 FPE
Barnes 6 ring, 57.6gr, 922.1 FPS, 108.8 FPE (22% higher than the Kodiak)
7 ring, 66.9gr, 893.5 FPS, 118.6 FPE
8 ring, 72.9gr, 861.6 FPS, 120.2 FPE
9 ring, 84.6gr, 816.8 FPS, 125.4 FPE Avg. (the highest measured was 822.8 FPS and 127.2 FPE at the standard set-up)
The numbers above reflect a consistent set-up for the gun. I can't say for sure that your results will be exactly proportional but I don't see why they would not be either.
These two groups were shot consecutively by two shooters. Note that the centers of the groups are the same (shot #1 in the bottom group was aimed high intentionally). The gun used was the one that was used for the power numbers above and the set-up remained the same for these groups. Those are groups shot at 125 FPE from a .25 airgun! The barrel twist is very similar to that found in the LW .25 barrels. This gun did not have a choke like the LW barrels however.
As of 27 Mar '14 these slugs are $18.00 per 100, any size, same price. Slugs are all made to order and sized to your specification; provided you specify .251, .252, or .253.
Shipping for up to 300 slugs is a flat $10 or a flat $15 for 400 or more, which covers insurance and priority mail delivery.
For those who prefer to limit their exposure to lead, we also offer the custom color coating that we use on the Barnes Raptor slugs. Custom color is offered at $10 per 100.
If you're interested, please email:
jboyenga@md.metrocast.net
I will not be conducting business through forum posts, please email or use PM's if you need any additional info pertaining to your gun. I'll post any general info I may have forgotten…
Update:
The 6 ring slug is 17/32" long
7-ring, 19/32"
8-ring, no longer offered
and 9-ring, 24/32"
We also continue to provide the Barnes Raptor slug as well as .308s, .45s and Barnes custom slugs to Barnes owners.