Yes, mine is a .177 and yes it's a rifle but I think the experience will carry over to the pup...
Posted this on the yellow
http://www.network54.com/Forum/79537/me ... w+today%29
And this is what I did to the shroud to make it 'functional':
......
The Kral surprised me being on the noisy side give the stock shroud. Turns out the shroud really isn't all that function stock. The barrel ends with an inch or so of the shroud end. The barrel does wear a fitting that snugs the shroud and the barrel band supports both. There is a good bit of tension on that barrel band but that's a project for a different day.
Looking at pictures, I think this will carry over to the bullpup format too but I'm not 100% sure.
The shroud on the does lend itself to some adjustment and more room for dead airspace or some internals.
I'm going to paste pictures and add links so hopefully this will work in multiple environments…
First, this is the stock configuration of the shroud (at least on the rifle)
Front end cap on the shroud simply unscrewed (no tool required)
There is a tiny grub screw (not specifically seen in the pics) just north of the barrel band. Remove it and set it aside for later.
Now the shroud will slide forward but there will be no way to re-secure it to the barrel. The oringed bushing at the end of the barrel WILL NOT hold the shroud in place by itself and the air blast will move the shroud. I may drill and tap the barrel band to allow for more options BUT, I went a much quicker route for the short term.
Nest step, you'll need to get the rear cap to unscrew from the shroud. Mine was on with locktite. Yes I used a heat gun, yes I was right there next to the airtube and YES I was exceedingly careful. Proceed at your own risk. I highly recommend degassing the tube first!
Here are the pieces, laid out kinda as that would be on the barrel.
Just flip the tube around;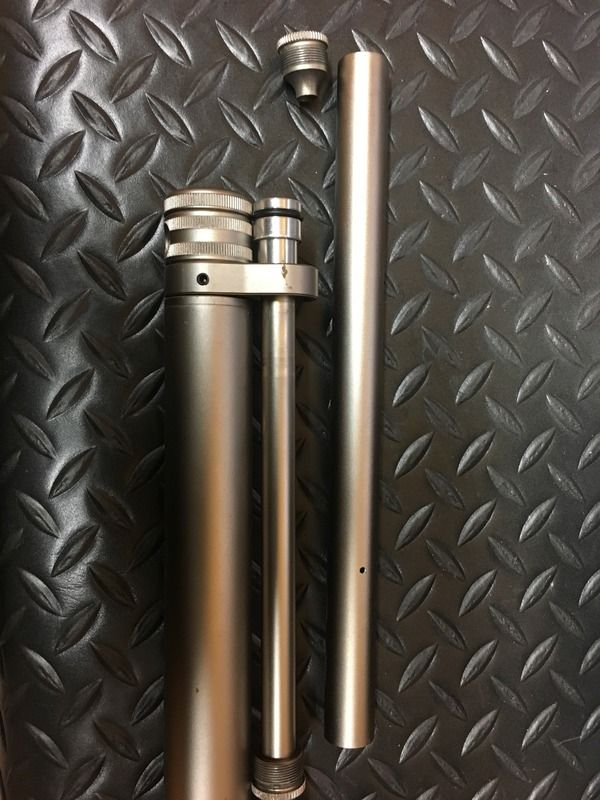 And reinstall like this;
When I settle on a power level I may not need/want that much extra shroud so at some point I may drill and tap an additional hole in the shroud.
The barrel 'bushing' will get vented next time around...
Then it's just a matter of re-attaching the pieces. You will have to put the grub screw back in or the shroud will slide…. There is a detent in the barrel end to accept the grub screw.
Now the big question…. Why did I even bother…
Turns out the shroud is just about 16mm ID…. Marauder baffles are about that OD… I think I got 6 in here along with the spring…
Downside is that I now have a 46.5" rifle.