So about 4 weeks ago I saw Ernest Rowes post on the yellow about his 7 fpe cricket and the shot of it with the Clague LDC and shroud amazed me, I HAD TO HAVE ONE! So a short email correspondence to both Ernest and Neil I ordered one.
The new shroud is at least 50% quieter than the stock one with Hoots hole mod.
Its hard to describe exactly how quiet the LDC is. Its quieter than Hollywood quiet. Its much quieter than a .22 cb with a can. Its as quiet as a mouse fart.
I'll post a YouTube video of it shooting with and without the LDC later.
The fit and finish is beyond excellent. The alum work is very fine and smooth. The fit to the barrel is perfect, its actually almost too tight which is good. People with a detail oriented eye will see than the weave of the carbon isn't identical but that was done on purpose because I didn't want to wait any longer for the matching weave to be ordered and show up. So I got the shroud and LDC a week earlier and don't mind it at all.
Stock cricket is 27"
W/ Neil shroud 32.5"
W/ Neil shroud and LDC 41.75"
Shroud is 16.25x1.25"
LDC is 10x2"
Shroud and LDC is 25.5"
Here are some pics.
Stock for comparison
Just the shroud with the thread protector installed
Shroud and LDC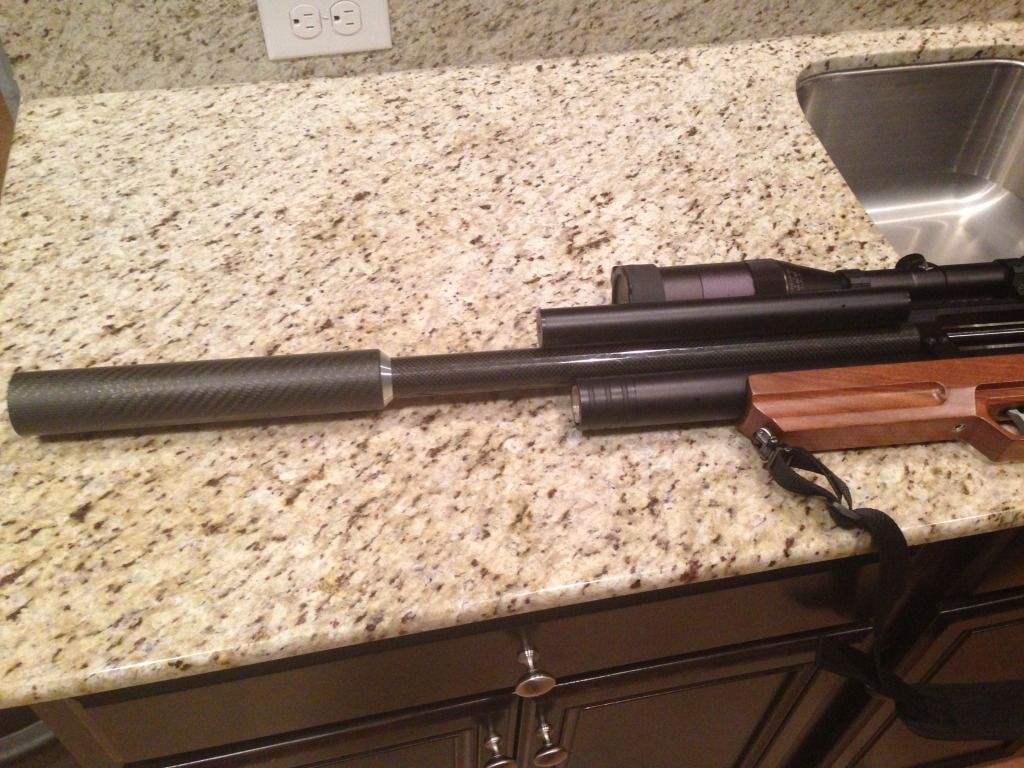 Shroud and LDC with the stock shroud for comparison
Stock shroud versus Neil shroud
Stock vrs Neil LDC and shroud
All 3 size comparison
Shroud to LDC. Nice and tight!
Barrel opening in shroud
Crown on thread protector
Shroud to thread protector. Clean and flush.
1/2-28 threads on shroud (might have to spin a .22 can on to see what happens)